Book Club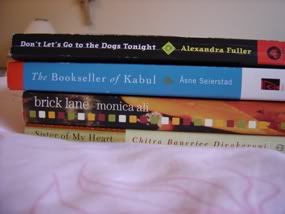 Last night my book club meet at the Hi-Life in Ballard for a discussion of "Travels with Charley" by John Steinbeck. I also love meeting up with these ladies and as usual the discussion was wonderful.
The meal was also wonderful. I had the Winter Vegetables plate which included roasted carrots, turnips, fingerlings (these are potatoes and not fingers as I tried to convince everyone!), polenta and a whole artichoke! Emily was nice enough to show me how to properly eat an artichoke since I haven't had a whole one in years!
Once we were done eating, we began discussing what our next book would be. Cathy was the one selected to choose the book this month and she selected "The Bookseller of Kabul" by Asne Seierstad. I've heard wonderful things about this book and am very excited about this selection.