Something to FINALLY show for my efforts!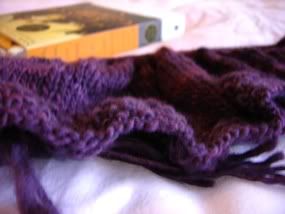 On Monday night, I went to the Purlygirls meeting and knit to my heart's content. There was some sadness when
Jessica
ripped out part of her Retro Prep but otherwise I got some good knittin' in! Then I left and picked Mot up at the airport before returning home to knit some more before bed. That is when I saw the saddness -- there was a HUGE hole in the sweater about 3 inches back. HOW was this possible!?! I checked to see if there was a dropped stitch. No dropped stitch. Was there a yarn over? Nope, negative to that. Then I noticed the hole had two yarn ends around it. Had the yarn broken? I remembered that there had been a "knot" in the yarn when I was knitting but that I decided to ignore it. Well the "knot" decided that it wanted attention and came apart! So I too had to rip on Monday night.
Last night I knit though and now I have about 7 inches of the front of my Manos Sweater done.
In 7 more inches, I start the armholes. Then I finish the front! Block all the pieces and sew it up! Yep, SEW it up and wear this thing everywear until my sweat from wearing a wool sweater in the summer months begins to felt the sweater. Yep, that's my plan!
Last night I also worked a tiny bit on my Mariah sleeves.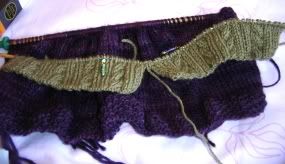 Must finish Manos sweater before working on more Mariah....I also need to start Rogue so that
Kim
doesn't hunt me down!