Wascally Wabbit
Last night after Spanish class (where by the way, I love my new teacher -- He is completely AWESOME) instead of blocking my Manos Sweater, I decided to cast on for the Lovable Toys Rabbit from Last Minute Knitted Gifts. I'm not sure what I love more, the yarn
Jessica
helped me pick out for this project or the project itself! The yarn is from Cottage Industry and is Pure Luxury Organic Peruvian Alpaca which translates to scrumptious!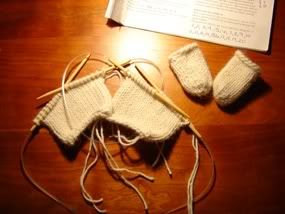 Now I can't wait to get home tonight and finish up this little guy. He's so cute!
This morning Terri Schiavo died after a grueling 15 year legal battle over her well-being. I won't use this place to voice my opinion on the situation but I will use it to encourage others to set up a Health Care Directive. I've had one drawn up along with a Power of Attorney which provides appropriate family members with my wishes. This is a fairly simple thing to do and one I think is vitally necessary, no matter what age you are. In the end you will be providing your love ones with guidance should the unthinkable happen.