Mariah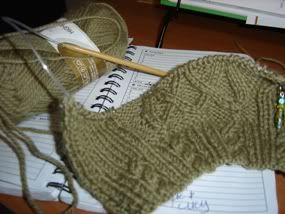 This weekend in a fit of excitement, I started Mariah but I've already ripped back so many times that I'm about to scream and THEN I noticed last night that while I was doing the cables in the middle part of the sleeve, I wasn't doing them on the sides! I don't know if I can handle ripping back. It is such a beautiful pattern but I may need a break to get myself back on track!
This past weekend was full of fun and frolicking though. Megan from the Purlygirls joined my friends and I along with her boyfriend, Matt and their friends, Jason and Monica for the Annual St. Patrick's Day Pub Crawl. Jason and Matt were a bit apprehensive about the crawl since they had visions of mad knitters drinking and knitting as they went from pub to pub. Megan and I left the knitting at home. Pub crawling is serious work and one must be very devoted to it. I look a little cheesy here but I have evidence that knitters can go on a pub crawl and only drink!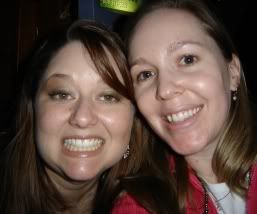 Sunday was my monthly photo day with Kim, Stephanie and Krista. Krista took our photo inside the Suzzalo library at the University of Washington.
And I grabbed a shot of her over by Lake Union --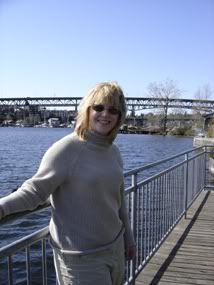 The weekend was gorgeous full of fun! Now when is the next one coming up?