Running out of good titles this week!
Last night after working out hard core (HARD CORE!), I met a friend for coffee at Starbucks and then headed home to watch the two hour Amazing Race. I love that show! I just love it and I am so cheering for Rob and Amber. In many ways, Rob reminds me of my brother so I like him and his devious ways!
The two hour show also provided me with the opportunity to finish knitting my Manos Sweater. The hardest part was matching up the two sides of the V-neck.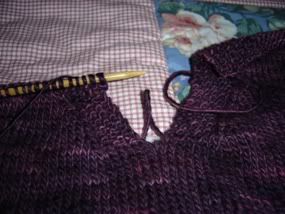 Once I got them even, with many recounts of rows and many re-measurements, I bound off and sat back to admire my work.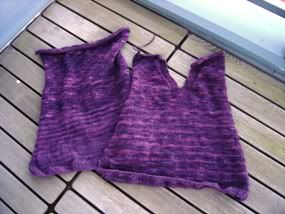 Here is a close-up of the matching V-neck sides (please do not burst my bubble and point out if they are uneven, I'm happy right now)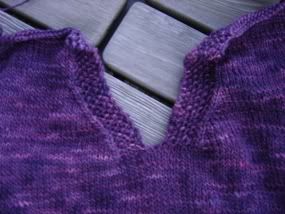 So while I know I still need to block and seam this sweater, I'm so very pleased to have the knitting complete! Tonight, after Spanish class, the blocking it will begin!
P.S. Shout out to my Aunt! Hi Lorraine :)