Serafina Knitting
Each March, Seattle restaurants take part in a "25 for $25" promotion. The prix-fix menu allows people throughout the Seattle area to visit restaurants they might not otherwise be able to afford. Last night a group of us met up at
Serafina
. The food was delicious! I started with a goat cheese appetizer which was wrapped in grape leaves. Meg had never tried goat cheese so I introduced her to this wonderful cheese. She liked it! I then had the pork entrée and finished with a huckleberry torta. All of it was wonderful! The waiter wasn't my favorite but the company was delightful and more than made up for the waiter. It was a fun evening bringing together friends from all avenues of my life (though to be honest, the idea was Mot's!) and even more wonderful was that they are all now becoming fast friends.
After filling my belly with wonderful food, I headed home to work on the Manos sweater. It was then that I discovered that I am an IDIOT! I was happily knitting along on the front of the sweater BUT I was following the wrong directions. I was following the directions for the back of the sweater! So I ripped back six inches and started the V-neck shaping on the front of the sweater.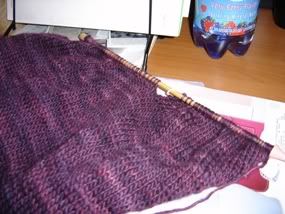 In light of this new set-back, I have revised my knitting goals and now expect to have this sweater completed by the end of the week. The V-neck shaping is going well but will take me a little bit longer than a few rows of St St. I just need to keep up the great knitting time.
I must take the time now to rave about this pattern! Taken from the "Yarn Girls' Guide to Simple Knits", the
Weekend Hooded Sweatshirt
has clear, concise directions. My only complaint would be the sizing for this pattern! Their large appears to be about a size 10 which isn't very large. I upsized the pattern and so far it appears to be on track. I'm using one of my favorite sweaters as a guide line.
P.S. I've had to be smarter than Blogger today! I created this post in Word and have cut and pasted until it posted. Frustrating!