Running and Seaming
Last night, Mot met me at Zubin's house for a run. It was one of the best runs I've had in a very long time. The 36 minutes flew past and if the HOAH* hadn't been in our way, I could have run forever! Zubin thought it was fantastic too and really enjoyed charging up that hill! I haven't run that fast in a very long time and it felt so very good! Mot is fantastic at getting me to really push myself and makes no qualms about telling me to work harder. Everyone needs a friend like Mot!
I also received my Elann yarn order for
Mariah
** and while I love one of the colors I ordered, the other wasn't quite what I expected. In fact, I believe I described it to Mot as being closer to the color of baby poop than I feel comfortable with! So back to Elann this yarn goes and a replacement will be ordered. Hmmm the possibilities!
Last night after the best run, I sat down and worked on Lara. I promised LeAnne of
Curious George Knits
that I would get my act in gear to provide her with inspiration on her Lara. I said that I would seam a bit of Lara every night this week but instead I got the seaming bug last night and finished up the ENTIRE sweater!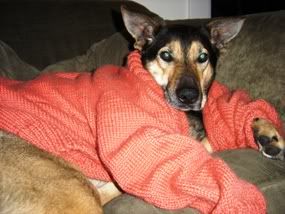 Well I did it! I spent all evening seaming up this sweater and now all that is left is some blocking which will have to be done once I'm back at my own house. Zubin would leave his hairy imprint if I tried to block it here. Of course, I am the one who put the poor dog in the sweater already! He was not pleased with me!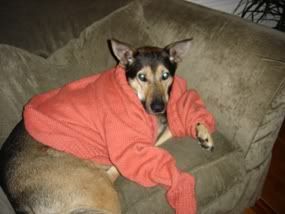 Also inspired by LeAnne, my goals for the week!
1. Knit front of Manos Sweater
2. Restart green socks on two circulars
3. Knit on Berry Baby Hat
4. Cardio Workout 6x (2 down, 4 to go!)
5. Strength Workout 4x
6. Do all of Spanish Homework without panicking at the last minute!
*Hell of a Hill
**Interestingly enough, my cousin is named Mariah!