Wiped Out!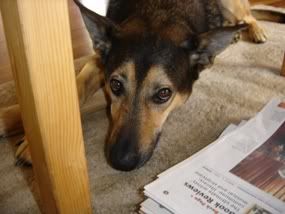 I've been dogsitting Zubin this weekend and I think we are both worn out from it! On Saturday, we completed a 7.5 mile run (and survived getting a little bit lost) and had doggie friends over for playtime. Phoenix and Roux came over to Zubin's house for fun. I heard from a source that Roux was WORN OUT but I believe that Phoenix is still running around like a banshee. Oh the vigors of youth! Zubin was spent from his day of fun and fell asleep on his special green chair quite early. In fact, he was so tired that he wasn't bothered when I left for a friend's birthday party.
On Sunday though, he had regained his strength and began pacing early. We headed out to Disovery Park where I had visions of us running along the beach. Unfortunately Seattle Law had other plans for us!
After looking forlorn for a bit, we hiked around the park for about two hours before running a few errands, which included a stop at Trader Joe's for dog cookies. We then headed home where I quickly knit up TWO Dulan hats.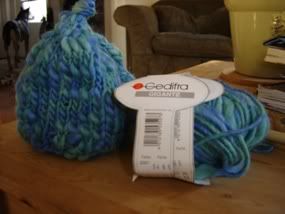 Can you spot Zubin in the background waiting to go back outside?
I used the yarn that I had won from
Gidget
to make these hats using the
Yarn Harlot's pattern.
I decided to use Gidget's yarn for this project to continue the cycle of giving. Now I need to find the right yarn to make up more hats using
Norma's pattern.
I also experienced some sleeve issues with my Manos Sweater. After knitting the sleeve cap on one and binding off, I measured it to discover that I had made a sleeve for an ape. Yep, it was WAAAAYYYYY to long. I called Mot. She said, "Well you can rip back, it is not that horrible. At least you found this out before you sewed all the pieces together!" Humpph!
So I decided to ignore sleeve number one and set off to finish sleeve number two. I did that one right. Then I went to work on sleeve number one and I made it match sleeve number two. I guess Mot was right, it wasn't THAT hard.
Here are my sleeves resting with the Dulaans and the start of the sweater front. Once the front is done, I'm done knitting and will need to face the seaming. But that is a bridge I will cross when I get there.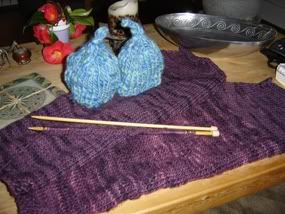 Yes, I still need to seam Lara. I plan to work on her tonight. Seaming is soooooo not as much fun as knitting BUT I want to wear the sweater so I need to get my act in gear.