Cascading Leaves
On Sunday after my 10 mile run, I thought I'd sit down and knit on my Blue Socks because when one has a goal, they must focus on it in order to achieve it. I instead decided to ignore my goal and made Tofu Spinach Lasagne which turned out so delicious that I can not wait to have it for lunch today.
Monday night though I knew it was time to focus on the Socktoberfest goal and after my spinning lesson, I began knitting on my Cascading Leaves blue sock. It's a lovely pattern but one that I have to pay attention to.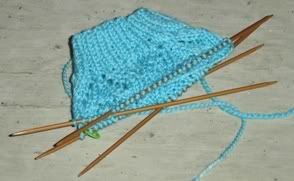 So I've knit one repeat of 6 repeats last night and I figure if I do that every night for the next 7 nights, I'll be through with the leg by next Monday, October 23rd. That will give me 8 more days to finish the sock of denial! It can be done!
Now I must go, I need to focus on my goals!
PS -- Ryan, I'm trying to post early so you have something to read :)