Soctoberfest Delusions of Grander
Lest you think I've forgotten about my sock goals in the middle of the
Scarf War
(which is currently at 38" or about halfway), I thought it high time to check in on the progress I've made with the blue sock.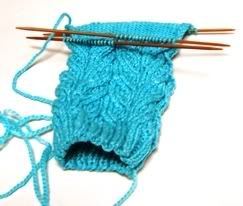 My
goal
was to have the leg completed by Monday, October 23rd and last night, I was able to knit through most of the heel flap!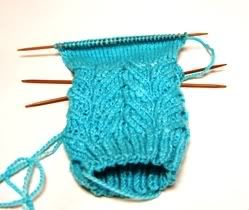 This takes me to the next step in my goal of finishing the blue sock by October 31st (just a mere 8 days away!). Tonight I will finish knitting the heel flap and knit no less than one inch of the foot. That will leave me eight more inches (including the toe decreases and kitchener-ed toe) to knit in order to finish the sock. If I knit 3 inches every night for the next seven nights (this is a word problem, PEOPLE!), I will accomplish my goal. May the Socktoberfest be with me!