Winter Garden - Part Two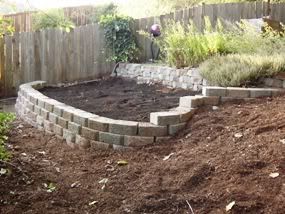 This weekend, my Dad loaned his expertise to the Winter Garden. He spent hours leveling the ground and building a rock wall to support the new black gold we'd be lying in later. I arrived a bit later than my Dad wished to loan my support but I did help finish the wall and spread the manure (gross!) and dirt around. Now we just need to finish adding more dirt and I'll be ready to PLANT, PLANT, PLANT!
I'm quite excited how the garden is turning out and I can't wait to eat some home grown veggies!
HUGE THANK YOU TO FARMER RAY!!!!!!! He's the best DAD EVER!