Feeling Charitable
Last night after going to the gym (such interesting people watching there but oh so painful weights too!) and chomping down some dinner, I grabbed some the yarn I took from Ryan's big giveaway and
Melinda
's
Avalanche sweater
pattern. I plopped myself down in front of the TV for the LOST premiere (SO DAMN GOOD!) and started knitting.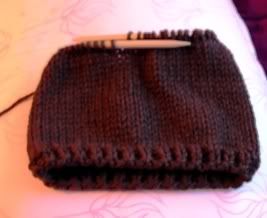 Now this is a sweater I can get into. After just an hour and a half of knitting, I had slammed out almost 9 inches!
In honor of Socktoberfest, I found a photo of the very first socks I ever made. These socks have one of the best stories associated with them. A story that I'll share tomorrow.