Soctoberfest Begins!
It's the first week of Soctoberfest and I can't wait to get started. I thought I'd kick this off with
Lolly
's great sock questionaire.
When did you start making socks? Did you teach yourself or were you taught by a friend or relative? or in a class?
I taught myself how to make socks with extensive help from Ryan at
Mossy Cottage Knits
. She helped me to understand when patterns SUCK and when to abandon them in favor of help from other knitters.
What was your first pair? How have they "held up" over time?
My first pair was a basic one in Regia. Unfortunately I only purchased one skein of yarn so my first pair is finished up in a totally different color for a funky flair. They have held up amazingly well and are a great conversation piece.
What would you have done differently?
Purchased enough yarn for a pair of socks! Used better directions! Ask Ryan for help earlier.
What yarns have you particularly enjoyed?
I am fascinated by Lorna's Laces Shepard Sock and Socks that Rock.
Do you like to crochet your socks? or knit them on DPNs, 2 circulars, or using the Magic Loop method?
I knit all my socks top down on DPNs though I would like to learn how to do them on 2 circulars and using the Magic Loop method. For now though the DPN method suits me fine.
Which kind of heel do you prefer? (flap? or short-row?)
I much prefer a heel flap over a short row but that is only because my short rows always look so messy!
How many pairs have you made?
Five or Six – I have started many, many more and I plan to finish some of those this month!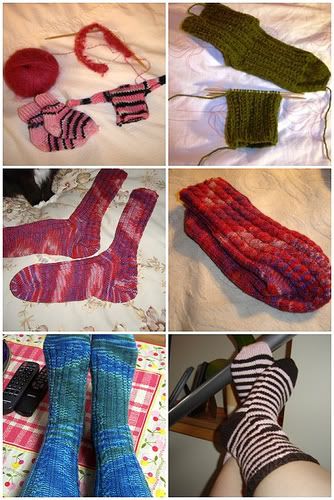 Here are photos of all the socks I have photographic evidence of making!